SWAVALAMBAN SASHAKT MEGA CAMPAIGN by SIDBI IN ASSOCIATION WITH COWE INDIA
By: Team Aapkisaheli | Posted: 24 Mar, 2021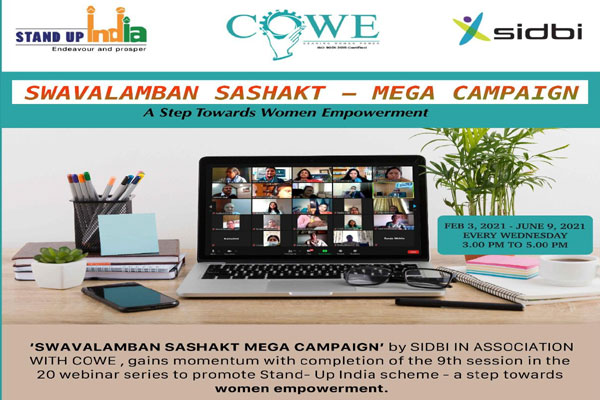 SWAVALAMBAN SASHAKT MEGA CAMPAIGN by SIDBI IN ASSOCIATION WITH COWE INDIA gains momentum with completion of the 9th session in the 20 webinar series to promote Stand- Up India scheme - a step towards women empowerment
Confederation of Women Entrepreneurs (COWE) of India is a not-for-profit organization started in 2004 by 6 successful first generation women entrepreneurs.
With headquarters in Hyderabad, 10 chapters and 1000+ members pan India,
COWE INDIA, is a national forum for women business owners, with vision and mission to propel Women Entrepreneurs into economic, social and political spheres of power.
In February 2021, Swavalamban Sashakt Mega Campaign, a series of 20, one day awareness, outreach and business opportunity programmes, was launched by COWE in association with Small Industries Development Bank of India (SIDBI) and Stand Up India.
Aimed at giving fillip to the STAND UP INDIA scheme of the Government of India,
along with nurturing the entrepreneurship culture among women, the mega campaign is a step towards increasing the penetration and outreach of the scheme, where in collateral free Loans to the tune of 10 Lacs to 1 Crore are available to Women owned ventures which meet the criteria outlined in the scheme guidelines.
The SWAVALAMBAN SASHAKT MEGA CAMPAIGN was inaugurated on 3rd February, 2021 by SHRI V SATYA VENKAT RAO, Deputy Managing Director of SIDBI, who, in his keynote address shared that the Mega Campaign attempts to ignite the spark of entrepreneurship in the targeted group of women.
Insightful sessions in the month of February 2021, focusing on Food processing, Medical sector, e-Commerce, Supplies to Hospitality and Hotel Industry and Support Services Sector, Biotechnology and Interior designing, saw excellent attendance from aspiring women entrepreneurs.
Each webinar of the series, showcases a business model by an eminent expert from the relevant field.
Banker connect in every session, throws light on the banking norms and the requisites of the SUI scheme from the bankers perspective.
To raise the spirit of optimism and add to participants' confidence, a motivational speaker/ successful entrepreneur presents her success story along with a
Stand Up India loan beneficiary sharing her entrepreneural journey, motivating the participants to start their dream ventures.
The participants are also guided about how to log in and register for the scheme, through the STAND UP MITRA PORTAL and connect with the hand holding agencies registered on the portal, COWE being one of them .
To strengthen the MSME ecosystem and expose the participant women to various business models, sessions on Textile & Fashion designing, Jewelry designing, Printing & Packaging, Preschool Franchise & Crèche, Event management, Herbal products etc. will be covered in the forth coming webinars in this series, scheduled on every Wednesday till 9th June, 2021, from 3.00 to 5.00 pm.
A special session was conducted on the occasion of International Women's Day, where in the esteemed Chief guest, General Manager of SIDBI, Dr. RK Singh, shared his vision to shape the dreams of women aspirants through this awareness campaign.
The recently concluded 9th session of SWAVALAMBAN SASHAKT MEGA CAMPAIGN on 24th of March was based on the business module – Printing & Packaging – where the field experts shared the prospects and business opportunities with more than 200 participants.
With these extensive awareness initiatives, Stand-Up India scheme of Government of India is turning out to be a great success, with nearly 82% of its beneficiaries being "Women" from all strata of society.
Launched on 5th April, 2016, by Prime Minister Shri Narendra Modi ji , the scheme has been extended till the year 2025.
The objective of the SUI scheme is to facilitate bank loans digitally, with out the need of even visiting the bank, to at least one Scheduled Caste (SC) or Scheduled Tribe (ST) borrower and at least one Woman borrower per bank branch for setting up a greenfield enterprise in the field of manufacturing, trading and service